Upcoming Events & Specials
January 2020: "Supercharge Your Resolutions" Special
$95 per session
when you buy 3 sessions or more
(normally $130 per session)
Wouldn't it be great to know your resolutions will last past the third week of January?
Leverage the power of hypnosis to ensure that by this time next year,
you'll be where you want to be!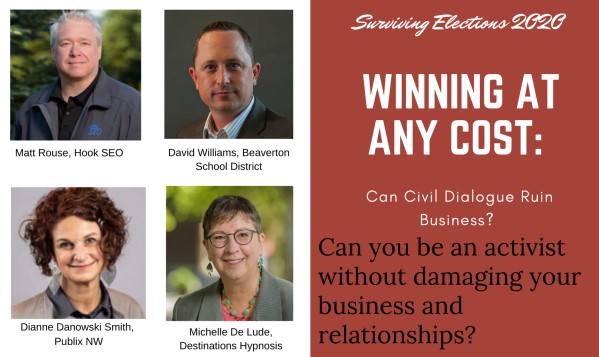 Feb 26, 2020 – 11:30am-1pm – Bring your lunch!
Register at beaverton.org
Location: BG Plaza, 3800 SW Cedar Hills Bl., Room 124

When it comes to politics, everyone has an opinion.
What's yours?
If that question gives you pause, you aren't alone. Campaigns and causes can make small-business owners think twice about how they (and their employees) use social media and engage in conversation online and off-line.
Today, we leave digital footprints that can be used to track where we live, spend, and recreate. Customers can sometimes reach us as easily as can family or friends. It's harder to keep personal and professional lives separate, especially when we care about issues that affect our businesses and customers. What happens if we unintentionally offend? Is there ever a time when the rewards outweigh the risks of issue-based marketing?
Join us to learn from experts on navigating this complex and interconnected world of information sharing and tumultuous political times.
Speakers:
Matt Rouse – Hook SEO Digital Marketing. Get a big-picture perspective of how political atmosphere and issues affect customer conversations, online and offline, and the potential benefits and consequences for your marketing.
Dianne Danowski Smith – Publix Northwest PR | PA Do you have a crisis communication plan? Not just for plane crashes and mining accidents. Dianne shares lessons learned during issues management and how PR can mitigate the damage.
David Williams – Beaverton School District. As a lobbyist, David works with people who represent different interests. It isn't unusual to work alongside someone this year who was working against you last year. He understands the importance of managing relationships, not burning bridges. Business owners can thrive by learning those same lessons.
Michelle De Lude, Destinations Hypnosis – Stress can affect our decisions, our reactions, our judgment. Pick up some tips for keeping your blood pressure down and retaining your sense of hope and humor.

If all you want to do is win, be prepared for what you might lose.
Sponsored by the Beaverton Area Chamber of Commerce and Leadership Beaverton
Oct 23, 2019 – panelist at Beaverton Area Chamber of Commerce Forum, "Winning at Any Cost: Can Civil Dialogue Ruin Business?"
July 17, 2019 – guest speaker at Hook SEO Digital Marketing workshop, Priming Consumer Behaviors



June 17, 2019 – guest on Hook SEO Digital Marketing Masters Podcast, with Jane Crawford of The Book of Jane, topic, "Live Video and YouTube Marketing" – Listen to replay
June 11, 2019 – guest on Hook SEO Digital Marketing Masters Podcast, with Jane Crawford from The Book of Jane topic, "Building Offline Communities" – Listen to replay
June 3, 2019 – guest on Hook SEO Digital Marketing Masters Podcast, topic, "Priming Your Customers," – Listen to replay
March 21, 2019 – Turn To-Do Lists Into Good Times With Mind Mapping
August 11, 2018 – Hypnosis in Popular Culture, with Guest Speaker Doug Meacham, Gresham Hypnosis Center, watch the pre-class video interview with Doug
June 23, 2018 – Voice and Vitality, presentation to the Oregon Hypnotherapy Association
Sep 2017-May 2018 – 4th Thursday Films: Hypnosis: Movies, Myths, and Metaphors, watch a movie together with Q&A and discussion